Our Solutions
Primary Marking Systems Inc. - offers solutions that are custom tailored to fit your needs. Working with a wide range of vendors and partners we can offer solutions that fit your application.
RFID (Radio Frequency Identification) -

We can help you with

DoD

,

EPC

, compliance labeling, as well as closed-loop RFID systems. We offer Preprinted and encoded tags, Slap and Ship systems, Print and Apply applicators and complete RFID systems.

Label printing solutions

including Label Print and Apply systems, stand alone label printers, Inkjet Marking Systems, Color Labeling system. We offer labels, ribbons, media, support and service on most printers. We can help you meet UL and MIL standards, including UID specifications.

AIDC (Automatic Identification and Data Collection),

data collection, scanners, hand held mobile computers (batch or wireless), vehicle mounted computers and RF infrastructure, wireless networks, and access points.

Software Solutions,

Warehouse Management Systems (WMS), customizable off the self software packages and custom solutions built for your specific project are available from us and our partners. Mobile Device Management software is available to assist in maintaining your hardware.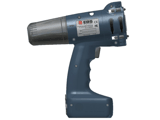 The HANDJET EBS 250 and the more advance EBS 260 with patented print technology replaces antiquated hand coders (such as stencil machines, stamps and roll coders, laborious and expensive in use and problematic with ink management).
They are portable, manual, ultra-compact and light INK-JET printer that uses a print-head with electromagnetic valves; it is battery operated and radio-controlled. This unique device weighs less than 2.2lbs. It is the device for users who demand low purchase cost, cost-effective operation and not excessively sophisticated practical functions.