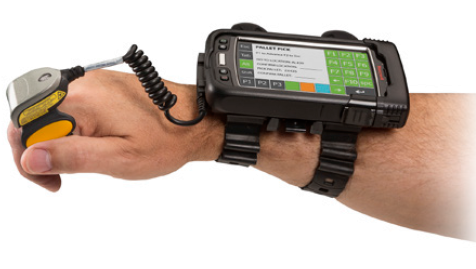 There are lots of opportunities throughout the enterprise to increase efficiency and reduce labor costs using a hands free computing solution: small parts picking, large package handling, sortation, truck loading… any time two hands are required. Up until now, that has required the use of a dedicated wearable device and a redesign of the application and the process to utilize the limited user interface. Using the rugged enterprise class Dolphin 70e with purpose-built wearable accessories provides a new approach to enabling hands free operations. The large display, flexible touchscreen keypads, and WEH 6.5 architecture allow existing applications to be deployed hands free. Without reengineering!
The lightweight wearable accessories provide increased comfort and improved hygiene over conventional wearables. The rubber watchband style armbands stretch slightly as the arm moves, and therefore remain tight to prevent sliding down or spinning around the arm. The rubber materials do not absorb perspiration and are easily cleaned between shifts. All components are breakaway for safety and easily swappable for left hand or right hand operation. The system supports corded or BT-connected ring scanners and provides a rugged audio interface to Honeywell's line of headsets. All standard D70e accessories, such as charging cradles and 4 bay battery chargers, are available.
Several software enhancements have been incorporated to make use as a wearable device even more user friendly. Pairing the BT ring scanners is now as easy as scanning a single barcode. APIs are available that allow voice applications to optimize voice recognition performance and the user's audio experience. An integrated keyboard designer is included that allows creation of popup keypads that are appropriate for the operation at hand. The appropriate keypad can be invoked by the user using hot keys, by a local application using an API, or by a Telnet host using special commands to the terminal emulation SW. This provides for a context-sensitive keypad: the users see only the keys they need when they need them.


Features

Hands Free without Reengineering: Run your existing applications as a wearable solution- without rewriting.
General Purpose Device: Don't get stuck with a dedicated device that only serves one purpose. Share the D70e on different tasks between shifts, or standardize on one general purpose device across multiple enterprise applications, including hands free.
Large Clear Display: The 4.3" display with capacitive touch screen and outstanding readability provides plenty of space for data and keypads. Clearly superior to conventional wearable displays.
Light Weight: The total weight of the Honeywell Wearable Solution is less than conventional wearable computers.
Flexible Keypad: The use of touchscreen-based keypads and the integrated keyboard designer allow you to deploy just the keys that the user needs, only when needed. Can be controlled by a local application, hot keys, or a Telnet Host application.
Watchband Style Armband: Improves comfort and eliminates hygiene concerns. The rubber watchband straps are comfortable, reduce sliding or rotating on the arm, and don't absorb perspiration. Easily cleaned.