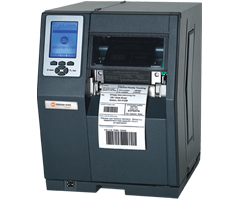 The H-8308p printer can be used in a wide variety of industrial applications with a range of media compatibility, connectivity, emulation support, and options including RFID support. Key features are listed below:
Connectivity: H-Class printers come standard with Ethernet, Parallel, Serial, and USB/SDIO interfaces for extra capacity models giving users integration flexibility
Rugged: Gear driven design with precision die-cast aluminum frame, which provides durability and light weight. A steel cabinet offers protection in industrial environments.
Range: H-Class is available in 203, 300, 400, and 600 DPI resolutions, covering a wide range of applications.
Multi-language menu available in English, Spanish, German, Italian, and French
Easy to read 7 button 240 X 320 graphical back lit display enabling user friendly label configuration set up on "X" models
Field installable options such as cutters, peel & present sensors, and thermal transfer capabilities can be added easily to upgrade a base printer
Media compatibility to support either coated side in or coated side out ribbons without the purchase of any options or the need for re-configuration resulting in easier ribbon inventory management
Intelliseaq Printhead: Proactive diagnostic tools allow easy access to printhead performance and history
Software: Features include Time stamp with print capability, time and date battery backup. Utilizes widely used DPL and supports MCL designer and 123 Print. With the PL-Z and PL-I printer language emulations, users can easily integrate the printer to existing solutions.