Honeywell CT60
New Honeywell rugged mobile computer offers enterprises long product lifecycle and support for future Android versions
The new DolphinTM CT60 rugged mobile computer from Honeywell provides enterprises and their workers with real-time connectivity to business-critical applications and fast data capture capabilities.
With its rugged form factor, the mobile computer enables maximum uptime and productivity for transportation companies and logistics providers.
The Dolphin CT60 supports four Android generations – 7.1 through Q – to provide customers with a long product lifecycle and making it easy for IT departments to quickly certify and deploy software applications.
The device is built on Honeywell's Mobility Edge Platform, which is a unified hardware and software platform for the next generation of the company's mobile devices. The Mobility Edge Platform is a combination of a common hardware architecture and enterprise lifecycle tools designed t drive an integrated, repeatable, scalable approach for accelerated and secure development, deployment, performance management and lifecycle management – maximizing infrastructure investment and providing a lower total cost of ownership.
The Dolphin CT60 features:
• An IP65 and IP67 rating to protect against dust and water spray;
• The ability to withstand multiple 1.5-meter drops onto concrete;
• Fast and accurate 1D and 2D scanning that can quickly read damaged barcodes;
• A vivid 4.7-inch Corning® Gorilla® Glass touchscreen display that can be easily read indoors and outdoors, and can be used with finger, glove or stylus.
• 4G LTE and NFC connectivity with a long-lasting battery power to provide workers with all-day connectivity to business-critical data and systems.
Zebra ZT610 ZT620 Thermal Printers News
Zebra ZT610/ZT620
Zebra announces the next generation of the Xi printer series with the ZT600. Check out the video below to see it and its powerful features.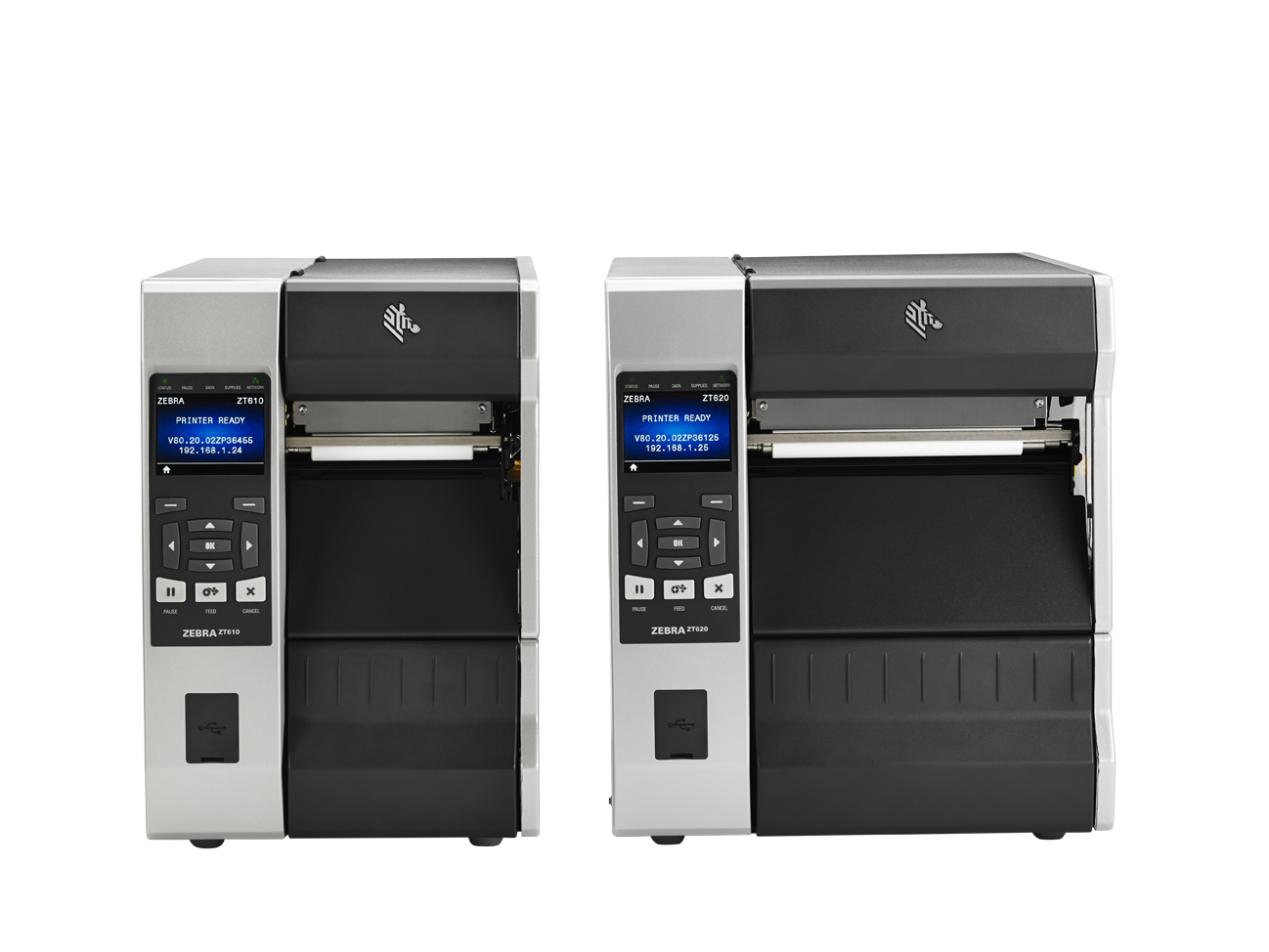 Zebra's ZT610™ and ZT620™ High Performance Industrial Printers advance the legacy of their predecessor, the Xi4™ Series, and offer next-generation operational visibility, control and adaptability—while maintaining the rugged durability and 24/7 reliability that has made the Xi Series the industry leader. ZT600 Series printers are built to deliver superior print quality and speed across the widest range of applications. The ZT600 Series printers are designed to provide 24/7 reliability with durable, all-metal framing and high-quality print mechanisms. The ZT600 Series isn't just tough; it also is loaded with features that provide faster and easier integration, deployment, management and maintenance.
Key benefits include: Ease of use – Each touch point and operation has been reimagined with the user in mind-side loading media and ribbon, error specific help videos, colorized error lights and touch points.
Micro consistent label printing – From tiny 3mm component labels to compliance labels, the ZT610 offers 600 dpi resolution and industry leading print registration.
RFID ready – Adaptive encoding array, field installable.
User interface – High resolution color LCD display. Ease of maintenance – simple printhead and platen removal, field upgradeable cutter, rewind and RFID, field installable communication options.
Easily integrate – Manage and maintain from anywhere in the world with Link-OS. Link-OS provides customers unprecedented, real-time visibility and control of printing systems, on-site or remotely, with cloud-accessible applications that simplify setup, integration, maintenance and troubleshooting.
Mositure Sensing RFID Tags

Metal Craft introduces a new RFID semi rugged tag with moisture sensing built into the tag. Specially designed for on-metal applications, Metalcraft's on-metal passive moisture sensing tags are much smaller, thinner, and more flexible than battery-powered sensors, and they are more cost efficient than active wireless sensing tags. Their flexible, battery-free design makes these tags a great option for large scale sensor deployments in a variety of industries including automotive, construction and manufacturing. Contact Primary Marking for samples or more information.
Zebra Recall!
Power Supply Unit Voluntary Recall
Initiated December 2016
Zebra wants to inform you of a very important voluntary product recall that potentially impacts the power supply units (PSUs) manufactured by FSP Group between October 1, 2010 and December 31, 2011 and were either sold as after-market kits or included with the sale of the following models of Zebra printers:
G-Series (GK420D/T, GX420D/T, GX430D/T)
GT Series (GT800, GT810, GT820, GT830)
ZP455, HC100, P1XX Series (P100, P110, P120)
ZXP3
After independent testing, it has been confirmed that the issue is limited to a discreet batch of PSUs and is NOT associated with the actual Zebra-manufactured printer or AC power cord.
The PSUs were sourced from an established, reputable third-party manufacturer who has been cooperative with the voluntary recall mandates.
The safety of our customers is of paramount importance to Zebra. While Zebra did not directly manufacture the PSUs, we recognize that our component-suppliers are an extension of Zebra and we are working diligently to rectify the issue in a manner that is least disruptive to our customers and channel partners.
Quality, both in product and customer care, is a top priority for Zebra, and we are committed to protecting the safety of our customers.
For more information Click Here. https://www.zebra.com/us/en/power-supply-recall.html